The East Fishkill Rescue Squad
The East Fishkill Rescue Squad, a division of the East Fishkill Fire District (EFFD), is a 100% volunteer Basic Life Support (BLS) ambulance service that provides emergency medical services to the residents of East Fishkill and surrounding communities under pre-planned mutual aid agreements.
As the population of East Fishkill grew rapidly during the 1960's, the need for an EMS provider gave rise to the East Fishkill Rescue Squad. Originally founded in 1967, the members of the EFFD Rescue Squad responded to emergencies with a 1965 Cadillac ambulance.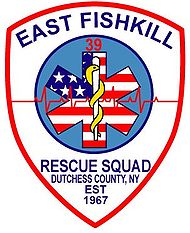 Present day the EFFD Rescue Squad remains 100% volunteer, despite the large increase in alarms recently. The EFFD Rescue Squad answers, on average, 1500 alarms annually with the use of just over 100 CFRs (Certified First Responders), EMTs (Emergency Medical Technicians), and drivers. The rescue squad maintains 2 ambulances, 39-71 and 39-72. 39-71 is staffed 24 hours a day, 7 days a week, 365 days a year and is rotated each week to 1 of the 4 fire stations in the East Fishkill Fire District.
The EFFD Rescue Squad leadership consists of an Executive Board as well as a Chief, a Captain and 4 lieutenants (1 for each fire station). The responsibility of staffing the ambulance is primarily left up to the 4 lieutenants; however, it is every members responsibility to make sure there is always a crew assigned to the ambulance at any given time.
For highly populated, large events and emergencies inaccessible by ambulance the Rescue Squad utilizes the 6x6 ATV with specially mounted EMS bed.
When an emergency requires Advanced Life Support (ALS), the District enlists EmStar.